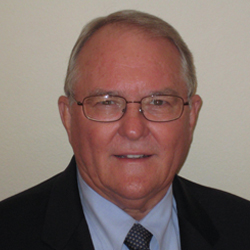 George West
Professor of Education at Hope International University
Dr. George West has served preschool through graduate level students in Orange County for over 50 years. He served the community as a teacher, professor, administrator, and school board member. In July 2016, Dr. West stepped-down as the Dean of College of Education at Hope International University; he continues to serve the University as a Professor of Education. In December, 2016, after eight years of service, he chose not to run for re-election for the Garden Grove Unified School District Board of Education, the third largest school district in Orange County; he served five consecutive terms as President of the Board. 
Following 35 of years of service in the Fullerton Joint Union High School District, where he was a teacher (Lowell and Fullerton High Schools), site administrator (Buena Park and Sunny Hills High Schools), and district administrator (Assistant Superintendent, Business Services), he joined the Hope International University faculty in 2001. During his tenure at Hope International University he was instrumental in developing online instruction and implementing new degree and credential programs approved by the Western Association of Schools and Colleges (WASC) and the California Commission for Teacher Credentialing (CCTC). He also collaborated with the Orange County Department of Education (OCDE) to implement a model AVID (Advancement via Individual Determination) scholarship program and pioneered the Early College Program (ECP) allowing dual enrollment in courses for high school students to earn college credit.
Dr. West served as the President of the Eastside Christian Schools Board of Directors; a board member of the Orange County High School of the Arts and the Fullerton Academy of the Arts Foundations; and the Orange County Theatre Organ Society. He was recognized by his peers as a California Teachers Association WHO (We Honor Ours) Award recipient, the Association of California School Administrators' State Business Services Administrator of the Year, and Hope International University's Faculty Servant Leader of the Year. He also received a joint California Assembly and Senate resolution for service to education; an Orange County Department of Education resolution for service to youth; as well as a City of Fullerton proclamation for community service and a Fullerton Chinese Cultural Association Award of Appreciation. 
In 2014, he was named the Grand Marshal of the Garden Grove Strawberry Festival Parade; the theme of the parade was Honoring Our Exceptional Educators. In 2015, Dr. West was recognized by Rotary International District 5321 (Orange County) with its Leadership Excellence Award for community service; he is a Rotary International Paul Harris Fellow.