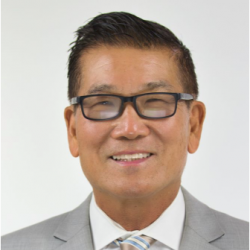 Michael Matsuda
Superintendent, Anaheim Union High School District
Michael Matsuda is a nationally recognized 21st century educational leader known for innovation, entrepreneurship, and compassion. Under his leadership, the Anaheim Union High School District has built a new educational model incorporating "reverse engineered" career pathways in partnership with higher education, private, and non-profit sectors, which have extended and transformed educational opportunities for all students.
Since becoming superintendent in 2014, Mr. Matsuda has earned several accolades, including: one of twelve national "Leaders to Learn From" Award from Education Week Magazine, the "Visionary Education Leadership Award" from Cal State University, Fullerton, the California Association for Bilingual Education (CABE) Administrator of the Year Award, and an honorary "Doctor of the University" from Chapman University.
Additionally, Mr. Matsuda was named the California Council for the Social Studies Administrator of the Year for promoting democracy in public schools. AUHSD leads the state with 10 California Democracy Schools which promote student voice and civic engagement throughout the district. Mr. Matsuda was also appointed to the National Council for Community and Education Partnerships (NCCEP) Board of Directors to enhance the organization's mission of ensuring underserved students have the opportunity, skills, and knowledge to pursue the education and training to achieve their career and life goals. NCCEP oversees the federal government's largest secondary grant program, GEAR UP.
As an innovator, Mr. Matsuda has developed the AIME (Anaheim Innovative Mentoring Experience) program to create mentorships for over 4,500 high school students and has created over 150 annual summer work-based paid internship experiences for students who also receive college credit through Fullerton College. He also conceptualized the AUHSD SERVATHON, an annual service event celebrating MLK Day with over 4,000 students, families, and adult mentors.
Before assuming the role of superintendent in March 2014, Mr. Matsuda spent 22 years as an educator in the Anaheim Union High School District. He began teaching at Orangeview Junior High School, where he was twice selected as Teacher of the Year. He also taught honors English classes at Oxford Academy. He received his BA from UCLA, MPA from USC, his teaching credential from Chapman University, and administrative credential from CSUF.