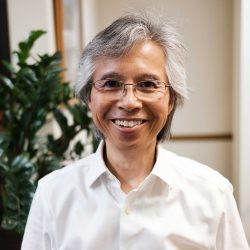 Brian Ton
Brian brings to Illumination with experience in mindfulness, law, and business.  He has led mindfulness training workshops for over 800 educators, 300 parents, and 700 health care and legal professionals.
For over 20 years, Brian has worked with families, individuals and businesses to prevent and resolve conflict as an estate planning and business attorney. He found that wealth and success do not always bring happiness into people's lives, and that even the wealthiest people struggled with stress and unhappiness.
A practitioner of meditation and mindfulness, Brian is passionate about helping others cultivate their own practice and value to achieve peace and happiness, which led to the founding of Illumination. He has experienced a wide range of cultures and professions, and found that cultivating a sense of awareness and presence would benefit his quality of life in any set of circumstances.
Born in Vietnam, Brian has practiced meditation and mindfulness techniques including Qi Gong and Tai Chi, Awareness, Vipassana, and Mindfulness. Brian has completed the Mindfulness Fundamentals for teachers and Mindful Educator Essentials training through Mindful Schools, and the Mindful Educator Retreat through Peace in Schools. He has also participated in the Resilient Mindful Learner Summer Institute workshop by the Center for Healthy Kids and Schools at the Orange County Department of Education.
Brian received his Juris Doctor at the State University of New York at Buffalo School of Law. He later earned an M.B.A. at the Wharton Business School at the University of Pennsylvania. He is the founding attorney at Satori Law Group, and a member of the Board of Directors of the Boys and Girls Clubs of Huntington Valley, California.  Brian was a speaker on Mindfulness and Cyberbullying at the 2018 Federal Partners in Bullying Prevention in Washington D.C.