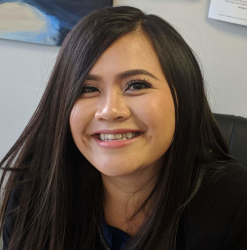 Everlynn Tran
Everlynn brings to Illumination over 10 years of experience in program implementation and management. She has led healthcare, educational, immigration, and non-emergency medical transportation programs for non-profits community based organizations such as Saint Anselm Community Center and BPSOS Center for Community Advancement.
Everlynn has worked with families and individuals to help them acquire services and supports–utilizing the resources available within Orange County. At Illumination, she is the program manager for the SHARE–working with families and partners to provide support and services for children with special needs. Additionally, she is also the program manager for Illumination research projects with USC and CHOC. 
Born in Vietnam, Everlynn has a deep understanding of Vietnamese culture and passion for serving the Vietnamese community of Orange County California. Her favorite pass-time is to sleep, and her favorite activity is sleeping. Everlynn has two wonderful children, and therefore had been sleep-free for several years.