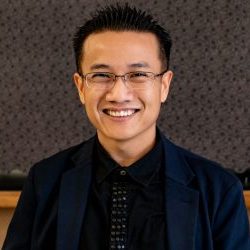 Hai Hoang
Hai Hoang is the Chief Operating Officer of Illumination Institute and a proud son of Orange County California. Hai has a wide range of experience and interest. He has a bachelor degree in biology and a master degree in public health. Hai's youth was primarily spent teaching bible classes, building computers, volunteering at hospitals, going to school, and playing an unhealthy amount of video games. His highest childhood achievement was being the top Hunter in World of Warcraft and the first Hunter in the world to own a "Thunderfury" back in 2006.
In college, Hai did basic cancer research studying a synthetic macromolecule called, "Cavitand" which had the capacity to selectively transport drugs into cancer cells. Again, he spent an unhealthy amount of time creating trackable anchors that allowed researchers to track the Cavitand as it moves through the biological system. This allowed Hai to publish his first article in the New Journal of Chemistry. Hai is fascinated by the unique impacts that culture has on health–especially on cancer–and has spent the past nine years working on this interest. Consequently, this has allowed Hai to receive a fellowship from the National Institutes of Health which gave him the opportunity to work at the National Cancer Institute's Process of Care Research Branch. It was at NIH that Hai learned the process of grant opportunity development and grant writing. Hai favorite things to do at work is to create health and social programs to address his community needs. He has five years of program development, implementation, and evaluation for the field of adult education, mental health, cancer research, social services, healthcare, and children intellectual/developmental disabilities for the Vietnamese community of Orange County California.
Aside from his work with Illumination Institute, Hai is a member of CalOptima's Membership Advisory Committee and an honorarium advocate of the Adolescent and Young Adult Cancer Program of University of Southern California.
An interesting fact about Hai is that he is lactose intolerant, but his favorite food is cheesecake. He is an adamant believer that life is too short and finite to be spent thinking about what we cannot do. His philosophy about leading is, in the words of Brene Brown, "Leadership is not about titles or the corner office. It's about the willingness to step up, put yourself out there, and lean into courage. The world is desperate for braver leaders. It's time for all of us to step up."