According to the World Health Organization, mental wellness is defined as "a state of well-being in which the individual realizes his or her own abilities, can cope with the normal stresses of life, can work productively and fruitfully, and is able to make a contribution to his or her community."
Mindfulness can be an effective way to reduce stress, accept oneself without judgement, increase self-compassion and thus contribute to an overall sense of well-being. Many have attested to a boost in mood and lowered anxiety and depression with mindfulness as a component of their treatment. However, mental health struggles are complex and often require professional help and a combination of approaches to address the issues most effectively.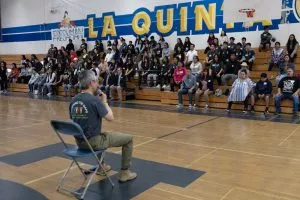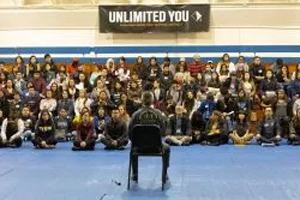 In the spirit of collaboration, Orange County hosted a Mental Health Summit where mental health professionals, community leaders, school administrators, students and parents were gathered to raise awareness about mental health in youths.
On Saturday May 18th, over 200 students and parents filled the gym of La Quinta High School to participate in Orange County's Mental Health Summit. Illumination Institute had been invited to lead everyone in a guided mindfulness practice as of part of the opening and closing exercises of the day.  Brian Ton, Illumination's founder and executive director, led the practice, with parents and children sitting side by side peacefully practicing mindfulness together. It was a powerful experience to witness stillness and calmness in such a large crowd of students and parents.
Just a few months prior to the Mental Health Summit at La Quinta High School, Illumination Institute participated in another Orange County Mental Health Summit at Western High School, helping a similarly focused and silent group of over 200 parents and students practice mindfulness together.
Following our guided practice everyone was free to walk around and attend various classed conducted by sponsors such as St. Joseph Health, Orange County Health Care Agency, Cal State Fullerton and many other groups and organizations. We also had a table with information regarding the mindfulness programs we offer for schools.
We are so honored to be a part of this great initiative and to come together across many sectors united in spreading awareness about mental health. Seeing how many busy families took the time on a Saturday to learn together testifies to the timeliness and importance of focusing on mental health.
If you need help or know someone who does, please reach out. While you may feel alone in your struggle, just remember that there are many who share your experience.
We are appreciative of this opportunity we had to share mindfulness with such a receptive audience and to be a part of this important event.